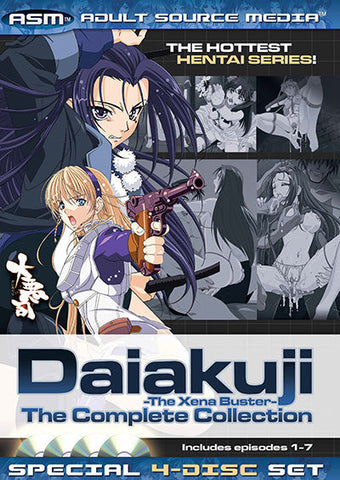 Daiakuji: The Xena Buster Collection
The Complete Collection! Includes Episodes 1-7! Special 4-Disc Set!

All 7 episodes of Japan's most controversial series are now available in this special limited collectors edition!

The cinematic battle of Good vs. Evil tantalizes viewers in an epic story of sexually twisted heroics. A lethal combination of artistic beauty, a captivating storyline & loads of hot-looking women. see why Daiakuji is considered by fans & critics alike to be the hottest hentai series. Whether you're a serious hentai collector, a casual fan or new to the genre, Daiakuji is a must-own series!
DVD Features
-  4 Disc Set
- Uncensored
- No Mosaic
- Subtitles
- English/Japanese Dialogue
- No Regional Coding
- SKU: DAI-000
- UPC: 7-36211-7217-3

---
We Also Recommend